Being an Overcomer
His Words of the Law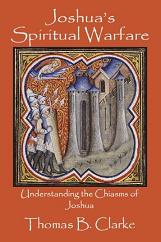 AUTHOR'S NOTE: This excerpt is based on the "chiastic approach." If you do not understand chiasms, I invite you to read my article What is a Chiasm (or Chiasmus)?

Consider these verses:
A
As I was with Moses, so I will be with you. I will never leave you nor forsake you (5b)
B
Be strong and courageous … be strong and very courageous (6,7a)
C
Be careful to obey all the law … that you may be successful (7b)
D
Do not let this Book of the Law depart from your mouth (8a)
D′
Mediate on it day and night (8b)
C′
Be careful to do everything written in it … you may be prosperous and successful (8c)
B′
Be strong and courageous. Do not be terrified; do not be discouraged (9a)
A′
for the Lord your God will be with you wherever you go. (9b)
(Joshua 1:5b-9)
A chiasm is a repetition of similar ideas in the reverse sequence: A goes with A′, B goes with B′, etc. In this case, A – A′ reminds us of the Lord's everlasting presence. On the B – B′ level, we see that the emphasis is on "Be strong and courageous", as stated in Joshua 1:6 and Joshua 1:9b. Obedience and success is the theme of the C – C′ level. On the D – D′ level, the words of the law were to be in their mouth and meditating on it continuously.

The inner most level of this chiasm (center point) is the D – D′ level in this example, which is Joshua 1:8a,8b. Instead of the NIV's use of the "Book of the Law" in Joshua 1:8, a look at the Hebrew shows it is dabar torah (word of the Torah). Moses spoke to all of Israel these words at the end of his life:
"Take to heart all the words I have solemnly declared to you this day, so that you may command your children to obey carefully all the words of this law. They are not just idle words for you – they are your life. By them you will live long in the land you are crossing the Jordan to possess" (Deut 32:46,47).
The words of this law were to be their life. They were to eat it, breathe it, think it, and consume it; so it would keep them alive.

The power of the chiastic structure is revealed in this chiasm's inward to outward flow: by keeping the words of the law alive in our spirits (D – D′), we are careful to obey (C – C′); by obeying, we depend on the Lord's strength and courage (B – B′); and because of all of these (meditating, obeying, being strong and courageous), we know the Lord is with us wherever we go (A – A′). The inner verses that emphasize meditation and obedience point to the outer passages that emphasize success and His presence in our spiritual battle. In this way, we overcome in the Lord's strength, not our own.

Therefore the inward to outward flow of this chiasm may be summarized as:
– The ever-present Word of God leading to obedience with evidence of success
– Obedience with evidence of success leading to the Lord's strength and courage
– Strength and courage leading to full confidence in the Lord's continuing presence

After my father passed away, I changed the screen saver on my PC to be a picture of my dad. Although he lived many states away, my dad was very dear to me. In my own way of dealing with the grief over his death, I was able to see his face every time I turned the computer on and off. In essence, I was continually meditating on his life. I had the full confidence that if I was obedient to the principles he taught me, I knew that what he planted in me would continue. Since then, I've removed that screen saver because for the most part, my grief has passed. But during that time, I was keeping the good picture of my dad alive in my spirit.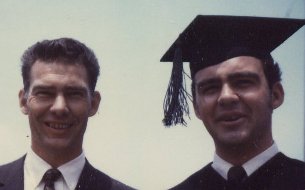 Dad with me at graduation from college, 1969
Photo not included in book
Spiritual Principle:
Keep the words of the Lord alive in your spirit.