Two More Examples
Sometimes chiasms can be fairly short while others are quite lengthy. I find that the shorter examples can better illustrate this concept.
First example
Consider this passage:
No one can serve two masters;
for either he will hate the one
and love the other,
or he will be devoted to one
and despise the other.
You cannot serve God and wealth.
(Matt 6:24 NASB)
Chiasms are usually arranged in the same top-to-bottom form as they appear in the text:

A
No one can serve two masters;
B
for either he will hate the one
C
and love the other,
C′
or he will be devoted to one
B′
and despise the other.
A′
You cannot serve God and wealth.
(Matt 6:24)
To many people, this verse conveys the thought that we must choose which master we will serve: God or wealth. While I believe that is correct, we can see a far more profound understanding when looking at it from the standpoint of a chiasm.

Note how the verses A and A′ have similar themes, as do B and B′, and C and C′. This chiasm uses three themes: serving one of two masters (God or wealth), hating one of the masters, and loving the other master. The theme in the middle portion of this text is called the center point – in this case, C and C′ are that center point. Most of the people that have studied the chiastic approach agree that the portion in the center usually contains a strong emphatic message. A second place of emphasis is at the beginning and end, what I call the first and last elements, A and A′. Therefore a chiasm is a way of quickly conveying what is important to the Lord in two separate locations.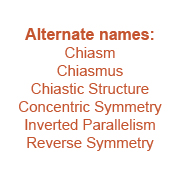 In Western cultures, we are trained to look for the emphasis at the beginning and/or the end of the text. Therefore, we naturally believe that this verse is about serving either God or money.

As I studied this chiasm, I saw that the center point focuses on loving the right master; the first/last elements focus on serving that master. Immediately I understood that while serving God is good and proper, love and devotion to Him should be the emphasis or driving force. Clearly I saw that some people serve the Lord but never love Him.

The application became most apparent to me: when we steadfastly love our God, serving Him is a natural outflow. Therefore, this chiasm reveals the dual emphasis: first love God for the opportunity to serve Him becomes the effective result of that love.

As with the above chiasm, the question is "WHY?" are these verses structured this way – "Why the emphasis?" A dialog with the Lord is often appropriate: "Lord, I see this chiastic structure. Now please show me why You wanted to emphasize this to me."

Second example
Let's look at another chiasm based on John 13:36-14:4:
A
Simon Peter said to Him, "Lord, where are You going?" Jesus answered, "Where I go, you cannot follow Me now; but you will follow later." (v13:36)
B
Peter said to Him, "Lord, why can I not follow You right now? I will lay down my life for You." (v13:37)
C
Jesus answered, "Will you lay down your life for Me? Truly, truly, I say to you, a rooster will not crow until you deny Me three times. (v13:38)
X
"Do not let your heart be troubled; believe in God, believe also in Me. (v14:1)
C′
In My Father's house are many dwelling places; if it were not so, I would have told you; for I go to prepare a place for you. (v14:2)
B′
If I go and prepare a place for you, I will come again and receive you to Myself, that where I am, there you may be also." (v14:3)
A′
And you know the way where I am going." (v14:4)
(John 13:36-14:4 NASB)
The center point, that is the middle of the structure, may contain a pair of themes such as A-B-C-C′-B′-A′ or just one theme as in A-B-X-B′-A′. Some theologians attempt to distinguish these, calling A-B-C-C′-B′-A′ an example of chiastic symmetry and A-B-X-B′-A′ an example of concentric symmetry. However that subtlety is blurred with many people, simply calling them all chiasms. In this chiasm, the center point is a single element, X, rather than two; rather than having D and D′ verses, a single X is presented.

This structure reveals four themes:
In the A and A′ elements, Jesus told Peter he would follow him to the place He is going
In the B and B′ verses, Peter said he would lay down his life for Jesus; likewise Jesus would prepare a place by laying down His life
The C and C′ elements contend that Peter will deny Christ three times but Jesus will not deny Peter for He is to build a dwelling place
The X center point is an emphatic command to believe in both God and Jesus Christ
Many who look at these verses are taught that this dwelling place is given upon the individual's physical death. To them, that place is their room in heaven. I suggest that those who have sincerely believed in Christ, they have Christ in them and they are in Christ. That is, I believe this chiasm places that room in Him and in us—it is defined here as the dwelling place.

Repetition in an outer to inward direction is the key to recognizing chiasms. There are hundreds and hundreds of chiasms throughout the Bible; the fun is finding and then applying them. As you read through the Bible and discover a chiasm, try to understand why the verses have been paired together in this way.

Therefore this chiasm says to me that sincerely believing in both God and Christ is the emphatic center point, with the second emphasis that those who do will follow that path to His dwelling place.